Telecommunication Services
We at Yashinfosystems, create the infrastructure that allows data in words, voice, audio, or video to be sent anywhere in the world. The largest companies in the sector are telephone (both wired and wireless) operators, satellite companies, cable companies, and Internet service providers. We as a telecommunication service providers make communication possible on a global scale, whether it is through the phone or the Internet, through airwaves or cables, through wires or wirelessly.
Internet leased line Services
An Internet leased line is a premium Internet connectivity product, normally delivered over fiber, which provides uncontended, symmetrical bandwidth with full-duplex traffic. It is also known as an Ethernet leased line, dedicated line, data circuit or private line.
To stay relevant and ahead of the competition, growing your business requires an internet connectivity that will serve as the backbone for the expansion and revenue generating activities. While some businesses tend to choose relatively low cost business broadband options, shared lines with simultaneous access to multiple users often lead to compromise in performance and experience. Designed specifically for companies with more than 20 employees, Yash infosystems Leased Line Services ensure that you get access to your own private, reliable, secure, high-speed internet connectivity 24 x7.
We have many satisfied clients for Internet leased line services few of them are NCERT, Indian Air force ( Meraki communication), Indian Oil corporation Limited, Utkarsh small finance bank, Massey Ferguson and more.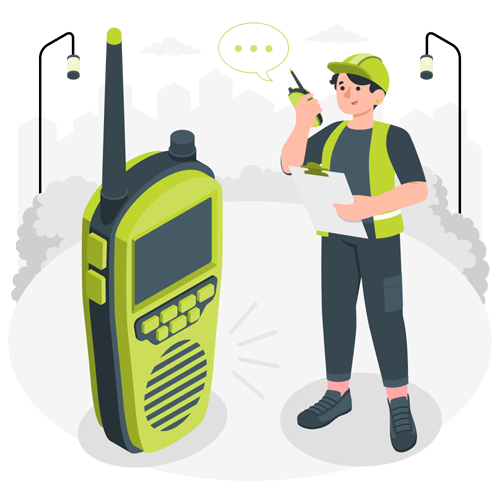 Radio Frequency
One of the most common type of internet connection is point to point connection. We provide both design and implementation of point to point RF links and point to point OFC links. Point to point wireless data links actually does not require a lot in the way of the network services. As a result of which, PTP wireless devices basically operate as simple bridges which connect two devices and always leave services like traffic handling and routing to those networks from which they are connecting. Hence we can say that, a PTP wireless data link acts as an invisible "wire" which joins exactly two data network devices. This means using wireless PTP technology we can easily connect the computers with each other even though they are separated by many kilometers.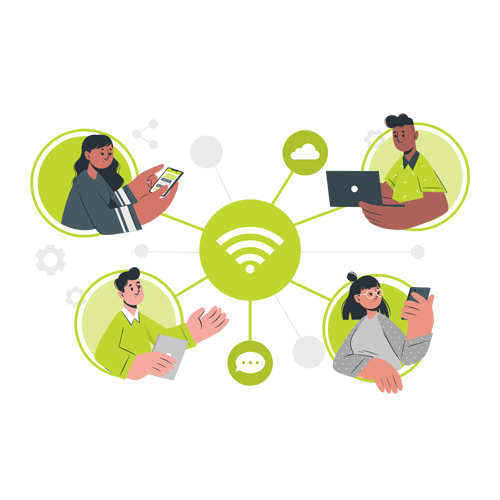 Fiber Optic Cabling
Transmitting the desired information along a fiber as light pulses is referred to as fiber optics or fiber links. They are commonly used in computer networking due to the ability of optical fiber to transmit data easily and also provides high bandwidth. By using the fiber optic you can transmit the data in long distance with unlimited bandwidth and secure transmission.
Point to Point Connectivity
Reliable, secure network connections have become a business necessity. In many cases, no connection, no productivity – and no revenue. Point-to-point connections services are used by many large corporations to ensure their WAN (wide area network) is up at all times.
Point-to-point connections, sometimes called a point-to-point link, P2P links, private line, or leased line, securely connect two locations using a Layer 2 data connection, building a closed network. Data on these connections doesn't travel on the public internet, where it could be vulnerable to hackers or cyber attacks. Point-to-point connections are extremely secure, so much so that only limited data encryption may be necessary when using them.
Yash infosystems provide the single mode and multi mode fiber optic installation, services and repair . We will Install your fiber optic cable under all Electrical Codes and Telecommunications TIA/EIA standards and regulations. Our certified technician teams will provide you with the best solutions for your network infrastructure needs. Securing your network connections with fiber optic cables will give you more bandwidth for your data traffic and more speed between all your network equipment.
Last Mile Setup Commission
Last mile is used to refer to the final leg of the telecommunications network delivery components to the end user. The last mile is typically the speed bottleneck in communication networks, and its bandwidth effectively limits the bandwidth of data that can be delivered to the end user. We at Yash infosystems as a last mile service providers have designed the last mile in such a manner that the fibre is extended very near to the customer premises. This ensures that the last mile connectivity to the customer premises is only a few meters.
Last mile connectivity has become a much greater challenge as network speeds have improved. No one really noticed how much these connections impacted data transfer when the infrastructure couldn't accommodate enough bandwidth to make latency an issue. We use higher bandwidth connections make it possible to transfer more data than ever, however, latency has become one of the most critical aspects of network performance. By implementing strategies to overcome the last mile problem, we help our clients to improve their network speeds and keep up with customer demands.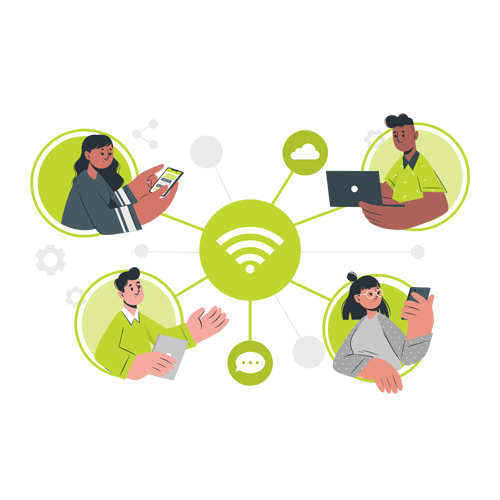 BTS Commissioning
Yash infosystems offers a comprehensive suite of Network roll out services that supports every phase of the roll out process. Our major strength lies in implementation of Core Networks in Network Planning, Equipment Installation, Testing, Commissioning, Integration and Maintenance of GSM/CDMA Network on Pan India basis. Yash infosystems has the wide experience of its staff in installation, commissioning & dismantling for all Telecom equipment's especially for BTS commssioning. Also our teams have the experience of swapping, upgrading from one type to another in effective & efficient time plane matching the client requirements.
We had a strong tie-up with our partners for equipment supplies to provide base transceiver commissioning and integration in terms of set up and testing of network elements in accordance with the manufacturer's specifications and documentation. Once the BTS is installed, cabled, powered up, connected to the transmission, commissioned, configured and integrated with the BTS Commissioning 3BSC, basic call testing is performed to verify that the BTS is properly installed and configured.
Backhaul Implementation
Backhaul is connecting the edge to the core without the cost of wires. In a hierarchical network the backhaul segment of the network is the link between the core network, or backbone network, and the sub networks at the edge of the network.
Backhaul applications are:
Video surveillance backhaul
Connect remote offices to datacenter
Add critical link redundancy
Yash infosystems offers a comprehensive suite of Network roll out services that supports every phase of the Telecommunication process. Yash infosystems has the wide experience of its staff in installation, commissioning & dismantling for all Telecom equipment's especially. Our team have the experience of swapping, upgrading from one type to another in effective & efficient time plane matching the client requirements. Connect with us at  info@yashinfosystems.in