What is network security?
Network security is a broad term that covers a multitude of technologies, devices and processes. In its simplest term, Network Security protects your network and data from breaches, intrusions and other threats.  Every organization, regardless of size, industry or infrastructure, requires a degree of network security solutions in place to protect it from the ever-growing landscape of cyber threats in the wild today.
Network security solutions we provide
Yash infosystems provides the Network security solutions like firewall, anti-virus, and email protection & endpoint security. It offers the products for Network Security, Infrastructure Protection, Access Management, Application Security, Threat detection & prevention, and Cloud security. We provide the Network security solutions for Hotels, Healthcares, Government institutions, Corporates, Offices and Manufacturing units.
Types of network security
Firewalls act as a barrier between the untrusted external networks and your trusted internal network. Next generation firewalls offers seamless and centrally managed control of network traffic, whether it is physical, virtual or in the cloud.
Access control defines the people or groups and the devices that have access to network applications and systems thereby denying unsanctioned access, and maybe threats. Network access control (NAC) can be set at the most granular level. For example, you could grant administrators full access to the network but deny access to specific confidential folders or prevent their personal devices from joining the network.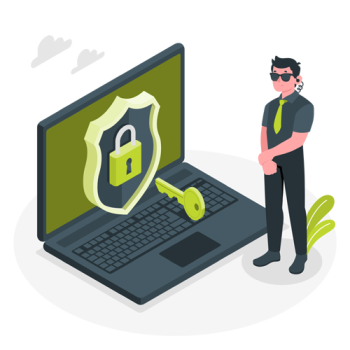 Virtual Private Networks (VPN) provides remote and secure access to a company network to individual hosts or clients, such as telecommuters, mobile users, and extranet consumers. Data between the two points is encrypted and the user would need to authenticate to allow communication between their device and the network.
Antivirus and antimalware software protect an organization from a range of malicious software, including viruses, ransomware, worms and trojans. The best software not only scans files upon entry to the network but continuously scans and tracks files.
Email Security refers to any processes, products, and services designed to protect your email accounts and email content safe from external threats
Why to choose Yash for Network Security solution?
Network Security is vital in protecting client data and information, it keeps shared data secure, protects from viruses and helps with network performance by reducing overhead expenses and costly losses from data breaches. Network security can also manage network traffic more efficiently, enhance network performance and ensure secure data sharing between employees and data sources.
Yash infosystems offers a suite of network security solutions that centralize and simplify what are often complex processes and ensure robust network security is in place across your enterprise. We have team of expertise working on Network Security solutions in Chennai, Delhi, Bangalore, Hyderabad, Gujarat, Punjab, Noida i.e all over PAN India. Contact us today at info@yashinfosystems.in  to setup and manage the Network Security of your organization.