What is End Point Security?
Endpoint security is the process of protecting the devices like desktops, laptops, mobile phones, and tablets from malicious threats and cyberattacks. Endpoint security software enables businesses to protect devices that employees use for work purposes either on a network or in the cloud from cyber threats.
Why End Point Security is important?
Every endpoint that connects to the corporate network is a vulnerability, providing a potential entry point for cyber criminals. Therefore, every device an employee uses to connect to any business system or resource carries the risk of becoming the chosen route for hacking into an organization. These devices can be exploited by malware that could leak or steal sensitive data from the business.
Endpoint Security is critical to the success of your business. Some business owners may consider endpoint security as an afterthought or view it as an insurance policy; however, thinking in these terms can and has forced businesses to close their doors permanently.
Any device that connected to internet and that communicates with your business network, such as a smartphone, tablets, laptops, desktop workstations, printers or specialized hardware like point of sale (POS) terminals or retail kiosks can create an access point that hackers can use to compromise your network.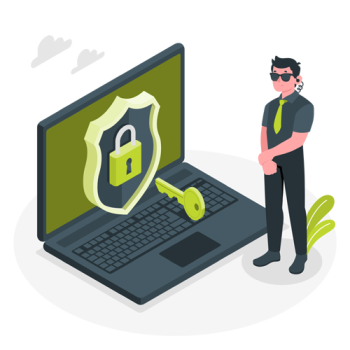 Endpoint security aims to effectively secure every endpoint connected to a network to prevent threats from gaining access to a business network.
How Does Endpoint Security Solutions work?
The endpoint security solution provides system admins with a centralized management console that is installed on a network or server and enables them to control the security of all devices connecting to them. The main goal of any endpoint security solution is to protect data and workflows associated with all devices that connect to the corporate network. It does this by examining files as they enter the network and comparing them against an ever-increasing database of threat information, which is stored in the cloud.
Difference between End point security and Antivirus:
Antivirus software helps businesses detect, eliminate, and prevent malware from infecting devices. Antivirus solutions are installed directly on endpoint devices, such as laptops, PCs, network servers, and mobile devices.
Endpoint security threat prevention is fundamentally different from the approach of antivirus software. Instead of protecting an individual device, endpoint security solutions protect the entire business network, including all of the endpoints connecting to it.
End point security solutions by Yash infosystems:
We provide endpoint security solution which involves proactively detecting and responding to advanced security threats like malware, ransomware, phishing, social engineering campaigns, and even combats insider threats looking to steal intellectual property or company assets.
Being a leading Endpoint Security Solutions provider in India, we completely understand that choosing & deploying the correct an endpoint security solution can be a difficult task for any organization, so we offer customized endpoint security solutions catering to the unique business needs of your business. Our experience & in-depth understanding of endpoint protection helps us deploy the best enterprise security solutions. Yash infosystems has partnered with world's leading endpoint security providers such as Sophos, Bitdefender, McAfee, Trendmicro, Symantec, etc
Yash infosystems endpoint protection team or professionals work by examining files, processes, and system activity for suspicious or malicious indicators. Our endpoint protection solutions offer a centralized management console from which administrators can connect to their enterprise network to monitor, protect, investigate and respond to incidents. This is accomplished by leveraging either an on-premise, hybrid, or cloud approach.
We provide scalable & managed endpoint security solutions that fit small, medium business and Enterprise with a flexible, multi-layered approach to endpoint security so that they can empower their employees to work and collaborate effectively. Our cybersecurity experts streamline securing, discovering, and responding to the sophisticated threats targeting your endpoints. Connect us today at info@yashinfosystems.in to get more details about  our End point security solutions.