Why network planning and designing is required?
Your network is the central nervous system of your business. Office management, digital imaging, accounting and even client communication software all function according to the health of your network. To leverage the effective networking process we need to ensure a good network architecture that can bring the operational efficiency to protect your client's data, that's where the network planning exists. Yash infosystems, has experienced staff of network engineers and project managers focus on designing a network that meets your company's unique needs and ensures you get optimal performance out of your network.
We have more than a decade of experience and working closely with industry leaders like Microsoft and Cisco. A well-designed network incorporates a solid understanding of your company's business and technical goals. 
Network design and implementation services includes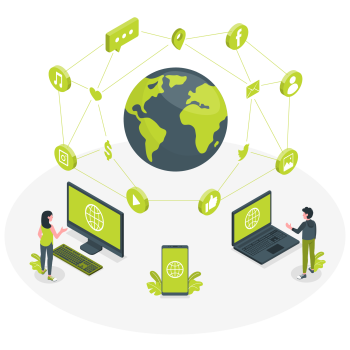 Our network engineers work towards gathering Network Design Requirements by identifying the right fit for your business process. Yash infosystems start the network planning service with the consultation to design the network topology and offers the relevant solutions at lower cost.Our team starts creating the network prototype that acts as a subset of full design wherein the testing happens in an isolated environment without connecting it to the existing network. The last crucial step involves implementing the design, we verify the network setup, monitor its performance and also modify the same if needed.
Yash infosystems will work with your organization to determine your business requirements, plan and design the network topology, implement the design and fully document the network.  As experts in IT compliance, we adhere to a strict set of best practices guided by industry standards, financial industry compliance and security conformance guidelines.