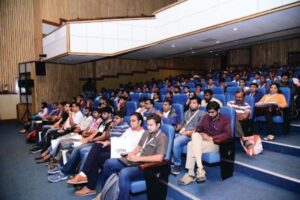 Open Source India (OSI) is an attempt by the team at Open Source For You magazine in partnership with India's Open Source community and industry—to bring various stake-holders under one roof. The mission of OSI is simple—to accelerate development and deployment of Open Source in India, and beyond. Event held at NIMHANS Convention Centre, Bengaluru on 29th & 30th September.
Internet Lease Line & Network Setup:
Yash Infosystems has provided the 1:1 leased line network connection of 120 mbps  at NIMHANS for 2 days event. A total of 2800 mtrs optical fiber cable including last mile base station to hub location in Nimhans convention center & between hub to Sub hub locations.  Network setup was done by using the Enterprise access points, routers, switches and controllers. We provided Wi-Fi as well as Ethernet drops for streaming and stalls as requisite by Event Organizer. Team has provided the Integration, implementation, Delivery & Backend NOC & Frontend support for both days. Our client was really happy with uninterrupted internet connection throughout the event.